If you have been searching high and low for the best of the best when it comes to tough watches for women, but just haven't been able to find anything that looks fantastic while at the same time remaining indestructible. Well, you're in luck!
We have collected some of the best women watches on the market today that are absolutely tough as nails, almost bulletproof, but still look absolutely fantastic no matter what you're wearing – and we've broken them down below!
Just pay close attention to the reviews and suggestions we have for tough watches for women below, and you'll have absolutely no trouble whatsoever finding your next watch. We tried to take all of the guesswork out of this process completely, and hope that you find the options that we've included below to represent the very "best of the best" of the women's tough watch marketplace today.
Top 5 Tough Watches for Women
Like always, read through each recommendation below very carefully – at the end of it, you'll know which one is right for you and why.
Ready to dive right in? Let's get to it!
Casio Baby-G collection
Starting off our list is Casio Baby-G collection. Anytime you are talking about top tough watches for women (or Casio G-Shock; toughest watch for men, for that matter), the Casio Baby-G collection has to be brought up.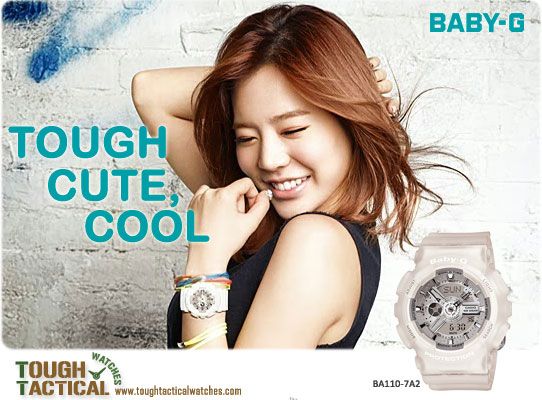 First hitting the marketplace in 1994, Casio come up with a smaller version of G-Shock's watch called Baby-G. This "Baby G-Shock" have quickly become a trend setter and fashion icon's for teen girl at that time – and are beloved not only because they are so tough (it's tough to break them even by driving over them with a truck, and they are about as waterproof as it gets) but also because they look fantastic and stylish at the exact same time.
The first Baby-G series, the DW-520, not only had G-Shock's resistance, but also a cute women's size digital watch with colorful color and fantastic design. Well, these day's, the very first Baby-G DW-520 is a highly prized collector's item.
There were whole bunch of Baby-G models available now, like his brother G-Shock; you can choose from a variety of analog or digital models -but still incredibly reasonably priced. Or you can choose a pair model's both Baby-G and G-Shock watch – your call.
Take a look at the pictures of Baby-G BA-110-7A, and then tell us that doesn't look beautiful with white look and gold (rose gold metallic) accent in the dial and has many functions such as 5 alarms, plus a snooze can be set on one of them; it has a stopwatch function and a timer. If we tried to list out all of the features here, this article would end up being 10,000 words. It's that good. It has everything that you'd expect. See here for detail feature.
There's nothing better than a rugged Baby-G as far as tough watches for women are concerned. 2014 marks Baby-G's 20th birthday, and when you've been doing one thing for so long, you get really good at it.
In 2014; for celebrating it's 20th anniversary, Casio releasing Baby-G BGD-500 series, base on original style of DW-520; the first Baby-G series . Baby-G BGD-500 series come out with three different color variation, the turquois blue BGD-500-3 used in the original DW-520, black BGD-500-1 and yellow BDG-500-9 – all model complete with a cute roundish "G" logo at front. Price range from $74 – $100. Check them out here.
As close to an indestructible lineup of watches as there is on the planet today, Baby-G's watches have been the "gold standard" for women that lead active lifestyles and need to be able to rely on their watch day in and day out.
back to menu ↑
Abington Aviation Series Collection
If you happen to be a pilot, you need to consider about getting your hands on the Abingdon Aviation watch collection. Abingdon watch is one of the toughest watches for women, the models designed especially for women aviators.
You could buy a man's watch, but it was bulky and black or brown, and you know a MAN'S watch,"

Chelsea "Abingdon" Welch
There are no secret many of the so-called "pilot watches" look so big in women wrist, that is why Chelsea "Abingdon" Welch – Pilot and the founder of Abingdon Co, envisioned fully functional pilot's watch that fits, fashionable, affordable, durable, and, most importantly, made for Women.
Abingdon has come up with some watch models in their Aviation series to fulfill the expectation of their customers – Amelia, Jackie, and Katherine.
The Amelia series is known as "The Watch Made for Everyone." Amelia is comfort, elegance, stainless-steel watch with rotating bezel surrounded with a soft "Croco" Leather strap. It features everything from E6B flight computer functions to Zulu time conversion and dual-time-zone and date windows under a sapphire crystal face.
The price for the Amelia series around $350 USD and it is offered in white and black. Amelia series has a positive five-star review at Amazon because of its elegant look and also for its toughness.
See here for read all reviews
.
Another Abingdon watches in Aviation series, the Jackie. Jackie brings style and glamour to the Abingdon collection. With a chronograph, date window, 24-hour clock to a mother-of-pearl face, and E6B flight computer function. The Jackie also beautified with 64 shimmering cubic zirconia crystals, which can be replaced with real diamonds if you want to.
The Jackie costs around $600 USD and comes in three colors: Dreamy White, Sunset Pink and Seaplane Green.  You can find Jackie collection for less if you look at the Amazon  – some are below official retail price.
See here for current price
.
Last but not least Abingdon watch in Aviation series, the Katherine, adds Chronograph with Super Luminova hands and hour markings, genuine Mother of Pearl face, water resistant to 50 Meters including Abingdon patent-pending ALPHABezel.
The Price. The Katherine around $550 USD and comes in many different color and option. However, you also can find it for less if you look at the sellers in the Amazon  – some are below official retail price.
See here for more update price.
Abingdon watches, in my opinion, one of the coolest aviator and pilot watches for ladies, yet an elegant aviation themed and sophisticated women watch as well as a candidate of best pilot watches for women. For more detail and in depth features, you can visit their website: www.theabingdonco.com
back to menu ↑
Invicta Women's SUBAQUA Collection
If you're not looking for a "sports watch" and want something a little bit more delicate or luxurious – but no less indestructible – you need to think about getting your hands on the Invicta Women's Subaqua collection.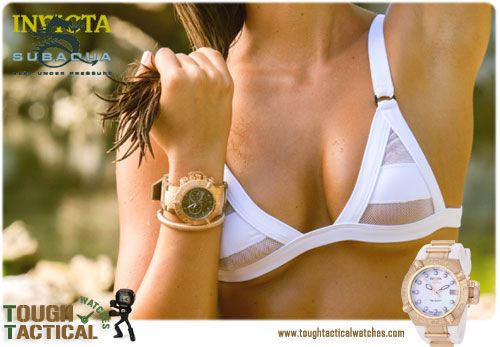 Very rugged without looking too masculine, incredibly elegant without looking delicate, and absolutely rugged right down to the smallest components (not to mention waterproof to at least 500 m), these watches are definitely dressier than the options above but are no less durable.
REVIEWS? The average is lower than the Baby-G's, but the percentage of five star reviews is higher. From lovely husband to average women, it seems that everyone has left a review on Amazon – check them out here for all features.
PRICE. A solid $300 – $400 price for a well-made and good looking watches – We think it's still reasonable price for this watch.
back to menu ↑
Seiko Women's SPORTURA Collection
Of course, if you're looking for another Japanese watch family with a "sophistication watch" in the tough watches for women category and looking for something that mirrored a men's style, but still carried the ladies feel, then you'll want to think about picking up Seiko Sportura for women collection.
The Seiko Women's Sporture line give you the function of stainless steel casing, water resistance up to 300m and it come with Japanese quartz. Seiko Sportura also offering you attractive and fabulous designs, easy to read dials, as well as an extremely reasonable price.
REVIEWS? Well, there more than 10 customer reviews on Amazon – including one where the reviewer give Seiko Sportura to his granddaughter, and she love's it despite his pretty small wrists. (Click here to read all of the reviews.)
back to menu ↑
Timex "Iron Man Traditional" Collection
On a budget? No problem, like always we've got you back. Now, if you're not exactly over the moon with the retro-inspired styling of the other three above , you might want to think about going with a Timex Ironman Traditional watch specifically made for women from TIMEX®.
These watches are a little bit flashier and sportier looking than the other three above, but offer a lot of the same kind of technical advantages and indestructible features while remaining a little bit more on the feminine side of things.
You can find Timex Traditional watches in blue, purple, pink, black and silver – or mix' of those colors. This allows women to pick and choose different and various colors to match any bikini outfit they put on.
REVIEWS?. For instance, Timex T5K652 is one of the most popular model from Timex Ironman for women. The 14 customer reviews on Amazon – including one where the reviewer prefers the Timex's as his busy lifestyle, including running, working out and suba diving!– also says it is a great watch with some excellent features. (Click here to read all of the reviews.)
PRICE$$
. Timex Ironman Traditional collection range from $40 – $99. But you can find for
third party vendors at amazon
, so you can find cheapest new one.
Timex Ironman Traditional definitely some of the most popular tough watches for  women with that money can buy today, they aren't overly expensive, though they can usually be a little bit cheaper than the Casio Baby-G options outlined above.
What do you think?
One of the most impressive watches on the market today specifically designed for women that really like to get out into the sky, adventure or the ocean and do a little bit of surfing (but able to meet your needs, no matter how active you are or what kind of lifestyle activities you pursue), these particular watch is nearly indestructible and more waterproof than just about everything outside of the Baby-G or G-Shock line of watches. What is your opinion? Do you own a tough ladies' watch? Are there other toughest watches for women that you would recommend?
Hopefully now you have a good idea about all of the top tough watches for women on the market today, and will make the right purchase going forward! Happy hunting!
*This article was originally published in 2014 and has been updated.