Valentine's Day is quickly approaching, and you want to show your other half just how much you adore them. Sure, you could give your Valentine a box of chocolates, flowers or some a stuffed animal, but these gifts are pretty cliché, don't you think? Instead of going with a ho-hum gift, think outside of the box and give the one that you love a gift that will knock their socks off and make them swoon on Valentine's Day, and every day: A Matching Couple Watch!
While your Valentine will surely appreciate any gift that you give them, you want to give something that will truly let them know just how much they mean to you. Though your love is timeless, if you did have to time it, you and your other half will love doing so on a matching watches.
We have scoured the market to find the most incredible watches that complement one another and would make the perfect gift for Valentine's Day.
Here's a look at the top 7 couple watches that we think you and your loved one will truly, well, love, wearing on Valentine's Day, and every other day of the year. These are our picks;
7 Couple Watches to Wear on Valentine's Day
G-Shock Lover's Collection LOV-16A-7AJR
G-Shock Lover's Collections is a perfect gift idea for the G-Shock lover and collector. The LOV-16A-7AJR matching watch highlights the G-Shock GA-110LD-7A and Baby-G BA-110LD-7A. Both models combine the same white-and-navy blue coloring a gold-accented on the face.
These models come in a heart-shaped box marked with the text, "G PRESENTS LOVER'S COLLECTION 20TH ANNIVERSARY," and custom drawings of an angel and a devil.
back to menu ↑
G-Shock Lover's Collection LOV-15B-1JR
The LOV-15B-1JR set based on a classic black G-Shock inspired by the fashion of the 90's DW-D5600P and a white Baby-G BGD-500. Both pair model include wire "bull bar" face protectors and have a very nice Lovers Collection logo etched on the back, featuring a stylized owl/heart back-light graphic.
back to menu ↑
G-Shock Lover's Collection LOV-14B-7AJR
The LOV-14B-7AJR inspired by the fashion of the 90's of G-Shock DW-D5600P and Baby-G BGD-501. The watches come in pure white heart box that identifies them as something truly special.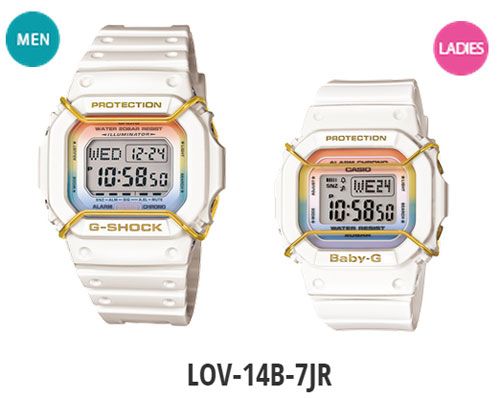 back to menu ↑
G-Shock – Baby-G Denim Models
Mark your love for each other with matching G-Shock and Baby-G Series, inspired by denim design motif. Denim pattern coloring has long been a favorite standard casual fashion item. The G-Shock GA-110DC-2A and Baby-G BA-110DC-2A2 based on the popular BA-110 and GA-110 Series.
back to menu ↑
Luminox Pair Couple Colormark 3057 Series and 7057 Series
Luminox has known worldwide for creating tough watches and is so well trusted by a military person. Developed for the Navy SEALS, this matching watch is tougher than you are, and its tritium-illuminated hands and hour markers glow like neon fire for 25 years.
The watch is very light with the Carbon reinforced PC bezel and rubber strap. The grey accents on the numerals and on the arrow indicators contrast well with the all white color of the watch.
The Luminox Colormark 3057 Series and Luminox 7057 Series would be a great addition to anyone's collection of Mil-Spec watches  and it's perfect gifts for the adventurer in your life..
back to menu ↑
Casio Edifice and Sheen Couple Watch
Another couple watches are also highly rated by consumers as high-quality amongst couple watches is another brand from Casio. The Edifice EFR-517L-7AV and SHEEN SHE-5023L-7A designed as his-and-her matching pairs.
back to menu ↑
TAG Heuer Formula 1
If you're looking for something sporty, something that'll be an essential part of your watch collection, the TAG Heuer Formula 1 pair watch is the perfect match, and they're sure your better half will like the ladies Formula 1 too!
The TAG Heuer Formula 1 CAU1115.BA0869 and TAG Heuer Formula 1 CAH1212.BA0862 is featuring analog chronograph dial, date display, black bezel and a silver stainless steel band with black ceramic in center links.
Conveniently sized with tough looks, great strap, and accurate "TAG Swiss Quartz" movements make both these watches the "winning couple".
Romantic gift options for Women.. or Men
Giving her a unique gift on Valentine's Day or any special days would rekindle that special bond. If you are still clueless what gift/s you can give your wife, husband, boyfriend or girlfriend or even your best friends, take time to look for couple watches that suit/s their style, taste, and personality.
Lastly, wear comfortable watches so you would be comfortable even if you spend the whole day looking for that special gift.
While Valentine's day is not only for lovers, it is also a celebration of friendship and all those whom we love. These matching watches are the perfect gift for your favorite couple (or friends) who have not only inspired you but made you grow as a person.