Casio G-Shock GPW-1000 series was introduced in mid 2014 and it features some of the most advanced technology you will see in a modern tough tactical watch, especially for aviation use. It's the world first GPS and Radio Wave Time-Calibration Hybrid Technology built in. This is not what you call a tactical smart watch, it does not have a phone or internet access. Its job is to keep you on time, every time, no matter your physical location.
You could be in an experimental underwater station near the Marianas Trench, or at the top of Mt. Kilimanjaro and you would have the accurate time, night or day. It does this by being one of the best tactical GPS watch on the market today.
But don't expect Casio to enter the smart watch gimmick. The company says it has no plans for such a device, keeping its focus on timepieces, not computers.
What makes Casio G-Shock GPW-1000 a Tactical Watch?
What makes a watch look tactical? Technically just about any watches can provide tactical features with a variety of function. G-Shock GPW-1000 had packed with amazing function. Telling time? It does that, and a whole lot more.
It comes with brand-new technology that Casio co-developed along with Sony. They developed a modest low-power consumption system for examining GPS signals along with a six band radio receiver to receive signals from the six atomic clocks world wide. The atomic clocks send out a radio signal, therefore watches are able to use to up-date on their own with the perfect time.
So even if you don't know where you are, the G-Shock GPW-1000 does.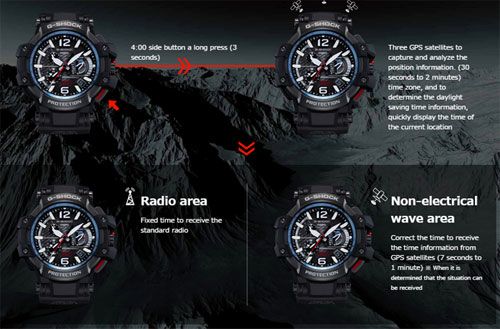 Dual Time Display. Dual time simultaneously displays the time in two different cities. View the current local time and second time at a glance from the minute/hour hands and inset dial, which is useful when travelling abroad or if you are on the mission in remote area.
Surely tactical watches have the date and time. Sometimes the watch will give more than one time-zone, and it has some sort of alarm, a second hand, along with a back light for night experiencing. You can see complete spec of GPW-100 Series here.
What makes Casio G-Shock GPW-1000 really tough watch?
It's not really a big secret the fact that G-Shock generally known as the toughest watch ever, since the first development they continuing to chase even greater toughness by utilizing an awesome technological capability. To ensure the tough performance of G-Shock GPW-1000 series, various quality test has been done during the development proses using prototype.
The testing the G-Shock watches go through in test include :
A hammer test
Drop impact test onto a block of concrete
A spin in a centrifuge
Water proof test
Put in a device that simulates underwater pressure
Electric Static Shock Test
Vibration Test
Will G-shock GPW-1000 series survive G-Shock's toughest torture tests? Here's examples.
Electrical Static Shock Test
G-Shock's capability to resist electrical currents that might interfere with the operation of electronic components guarantees worry-free wear in situations where static electricity is probably going to happen.
And if G-Shock GPW-1000 still keep ticking from all of those test, there's always a Hammer Test.
Hammer Shock Resistance
This is one the test to evaluate the toughness performance, it is a test to examine whether there is a problem with the GPW-1000 watch through extreme impact. They slammed it 50 times or so, with a 5 kg of big hammer swing down like a pendulum straight to the watch.
Big Bold Appearances
As you can see, The GPW-1000 series it's relatively a big watch (66.0 x 56.0 x 18.8mm dimensions), but it wears smaller than it looks. It stands out, but models with less-sporty colorways do offer a bit more subtlety and professionalism.
The GPW-1000 has a more rugged design with a resin frame offering some additional protection on the outer edges and front sides of the bezel. The watch also has a resin band with carbon fiber insert that makes it more suitable for outdoor use.
Pros and Cons to the Casio G-Shock GPW1000 series
The pros and cons for what you can easily categorize as a tactical GPS watch are as follows:
PROS:
Superior and unbeatable accuracy, no matter your location.
The unique tough structure was born from an unprecedented idea. This technology has been passed down to every G-Shock model for over a quarter-century.
Carbon fiber insert band ensures long life and durability.
Patented shock resistance up to 3 Gs for the casing.
Runs on solar power with a 7 month battery life without sun exposure.
Full auto-calendar, preset until the year 2099.
Multiple display settings and option to manually or automatically use GPS.
Water resistant up to 200 meters.
Neo-brite hands and markers allow you to easily check the time without extra light at night, yet are not overly visible during the day for a discrete appearance.
CONS:
Pricing is the biggest setback for this watch. From the manufacturer alone the series is listed around $950 or more.
It is a niche item, smart watches are able to able to provide as much technical function, though do still fall short of the physical durability.
While stylish, the color schemes available are limited. It is a more masculine piece, despite some series attempting to be alluring the female consumers, in general they are best perhaps gender neutral for some models.
The GPW-1000 series comes with various different models.
Below is a list of every G-Shock GPW-1000 model produced starting with the newest release. This page will be updated as new models are released.
update: G-Shock releasing new model of GPW-1000 series, part of new Rose Gold Gravitymaster line; the GPW-1000RG-1A "aging looking process" rose gold bezel, index, band screws, crown, and buttons. It also has a dual-layer band with a red inner band..
[wpsm_comparison_table id="9″ class="center-table-align"]
Casio G-Shock watches have maintained a presence on the watch making scene.Unlike other company's that rely on mere nostalgia and make few changes, Casio has updated their product and expanded the line, like G-Shock GPW-1000 series, While most models still have the iconic look of a Casio, the features packed into them are far from anything but the simple digital faces of the 80s and 90s.
Having said that, If you're looking for a bag of outdoor gadgets that fits neatly on your wrist, the G-Shock GPW-1000  is what you're looking for.
*This article was originally published in 2014 and has been updated - 2017.01.11